Costello completes his first year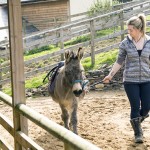 Costello completes his first year
Costello our amazing donkey
When we brought Costello to the farm back in 2008, he was given all the encouragement and support he needed to get to know us and the children visiting.
We soon realised Costello wasn't as confident as Abbott or our original donkey Barney, so we decided we would not use him for rides as we didn't think it was fair to him.
Believing that he simply needed more time we finally realised that more needed to be done for Costello to help him develop. We signed ourselves up to two donkey behaviour courses at the donkey sanctuary in Sidmouth where we learn about the subtle differences between donkey's and horses and what type of training helps a donkey to develop.
Armed with our new found knowledge we set about creating a shaping plan for Costello to help him with his confidence issues.
A shaping plan is a training plan that identifies the behaviour you want to achieve and therefore the actions needed to achieve the objective. Sounds simple but there is a lot more to it than this!
Shaping is never hurried or harsh. The training is carried out to help create confidence through repetition, building on all the achievements made. If we pushed too hard then all the good work would be lost. If we were having a bad day (we all have them) then we would not attempt to provide any training.
To Costello's credit and that of our team, he has grown in to a much more confident donkey who now enjoys giving rides and getting a thank you treat for his efforts.
A rewarding and happy outcome that took two years. Never rush a donkey, they will always win!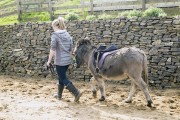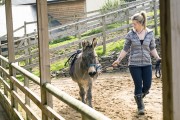 Posted on