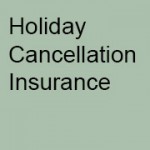 Holiday Cancellations
The importance of UK holiday cancellation policies
Since our various re-openings over the last 18 months, we have seen a growing increase in cancellations (some due to Covid but not all). We always try our utmost to help each family avoid losses by putting up last minute availability posts and following up families that are on our cancellation list.
Having endured a particularly difficult time during the pandemic all UK tourism businesses need you to (now more than ever) either take out a holiday cancellation policy (which will cover you for COVID related cancellations) or accept any loss as a result of your cancellation.
Why is this needed?
Self catering and other small accommodation providers have a very limited number of weeks during the year from which they can generate income. Every last minute cancellation that can't be re-let represents a potential loss of income through no fault of their own.
A term that has been regularly used within the sector is "insurers of last resort". Put simply when you pressure a tourism business to cover your losses you are expecting them to become your insurer.
We do not want to see any of you lose your money but short notice cancellations are having a growing impact on the sector and us.
A polite but heartfelt reminder to all our guests to PLEASE please take out cancellation insurance to cover their UK breaks.
There are many policies out there that will cover your requirements, so please help us by doing this.
A big thank you in advance.
Posted on