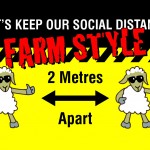 National Lockdown v3
2021 January 6th COVID-19 National Lockdown
Following the Governments announcement on the 4th January we are once again closed for business until further notice.
With all of the disruption caused by national lockdowns we are working quickly to identify any bookings that might be affected.
As before we will look to help with moving your booking or issue you with a voucher (with extended validity) or provide a full refund.
If you are on Facebook, Instagram or Twitter we will be providing regular updates and trying to keep our guests informed and spirits up!
Book your next break with confidence
We will all need a little confidence to book our next break.
During the COVID-19 outbreak in 2020, both Cheryl and I took a very supportive view of those who had a break booked with us. We don't expect to change how we treat and value our guests and have now therefore introduced new COVID-19 terms which provide additional reasurance during these uncertain times.
British tourism along with the businesses that we connect with all need help. Your support will allow businesses like ours to continue to employ staff give work to contractors and support the many local producers that make Devon the destination of difference.
Your country needs you. It worked for Lord Kitchener, it works for us all now.
Here for you as always.
Roger, Cheryl, Emily & Jenny (and the many people who work hard behind the scenes keeping North Hayne Farm running)
Posted on