Supporting Children with Autism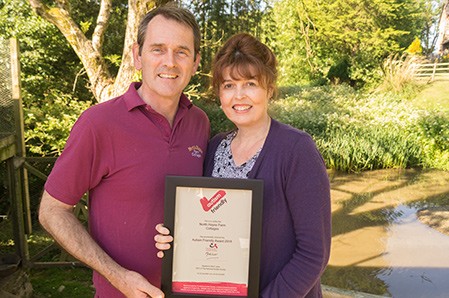 At North Hayne Farm, we continue to work to create an Autism friendly environment. Our aim is to provide inclusive farm holidays, where individual needs can be met and families always feel welcome.
Disruptions to normal routines can often result in more behavioural issues and we recognise that it can be stressful for many children (and their parents/carers) when they are away from their usual routine and familiar home environment. We would therefore encourage you to contact us prior to arrival to discuss any specific needs your child/children may have.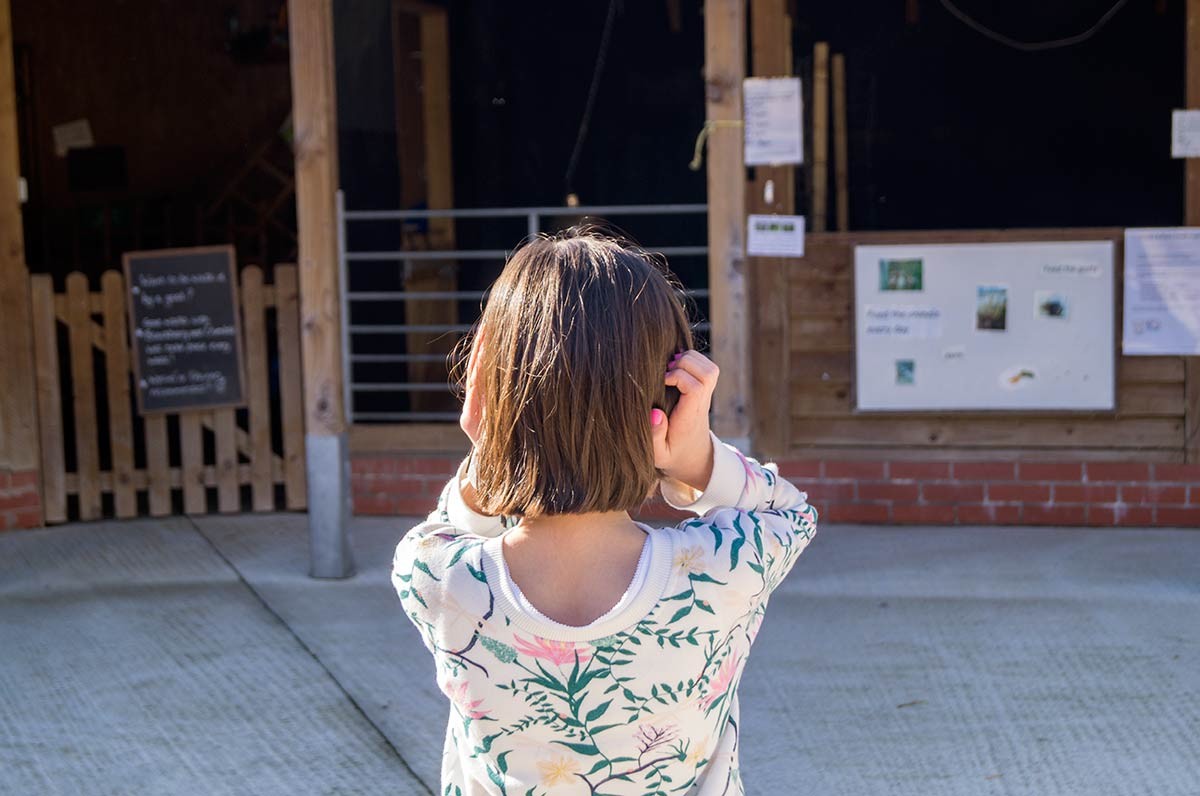 If your child has sensory difficulties such as sensitivity to loud noises, it may be necessary to come down to farm feeding sessions slightly earlier or slightly later so that noise factors can be reduced. It may also be helpful to enjoy the morning donkey ride at the end of the morning session when it is quieter at the barns.
Our twice daily animal feeding routine is purposely structured (farm staff will use signing to help with this if required), this is to provide a constant framework for all our younger visitors, helping them to feel secure and more confident. We do recognise however, that waiting in a queue for their bucket of 'feed', taking turns or sharing may be particularly challenging.
Please have a word with us if you think there is something extra we may be able to do which will help.
We have developed many aids for the farm that can help a child to reduce their anxiety levels and help your family have an enjoyable holiday:
Meet the team; an overview of the team who you may meet during your stay. This includes a photo of each person to help familiarize your child with new faces prior to arrival. Your 'Autism champion' is Cheryl, please feel free to speak to her both prior and during your stay should you need anything at all.

Our Meet the team sheet is available to download prior to arrival if required.

A map of the farm; Another downloadable document which shows areas that can be busier, quiet spots to 'escape to' ,parking areas and general farm layout.

Flash cards; these are packs of photo cards (taken from around the farm) which can be used in a number of ways. They show many of our animals and facilities and were originally designed for children with non-verbal Autism, although are also used to develop communication skills amongst many of our children and/or as a useful pre-arrival tool. There are laminated sets that are available to borrow from reception on arrival or contact us if you would like to be sent a pdf to print prior to your stay.

Daily Schedule Pocket chart; this is a wall chart with plastic pockets and laminated cards, designed to help families plan their day together with their child. It is used to help create a new routine in a fun way and once again reducing stress. It is free to borrow from reception and is tailored to the farm and to North Devon making it even more relevant and hopefully helpful to use!

Our Social Story - (available to download) will help prepare you and your child for your stay on the farm. We have also created a new map of the childrens farm to show the route around the farm.

In the play barn you will also find a guide to help all everyone understand the needs of those with autism. We also have a trampette and low spinning chair with hood. The Playbarn is never locked so is always available for you to use at times to suit your child/children.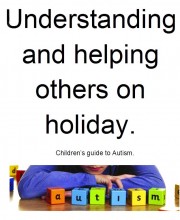 On arrival
Please drive down into the courtyard where you will be greeted by one of the team (usually Cheryl) and shown into your cottage. After unloading, cars are generally returned to the main car park, this is in order to keep the courtyard as free from cars as possible, reducing further, both noise and crowded spaces, in addition to creating a safer environment for all our children and their families to enjoy.
Please feel able to bring along your child's own bedsheets, pillows and blankets as reassuring smells and the 'feel' of familiar things can help a lot. Heavier bankets or lighter weight duvets are also available by request and ornaments (although very few in each cottage !) and decorations such as mirrors, pictures etc can also be removed prior to arrival if required. Once again please just contact us to discuss.
Days out can often be more sucessful if you have as much information about options beforehand. Each cottage will have an information pack with a Ted Bear recomends section-these will be particularly family friendly and accomodating places to visit. Diggerland for example is Autism Friendly so may well be a great choice. Please dont hesitate to speak to any of the team here at the farm though, we try to visit everywhere ourselves as often as we can so can usually give you lots of honest feedback to help you make the best choices you can.
We welcome any new suggestions of ways in which we can continue to help you and make your stay just that little more relaxing.
We look forward to seeing you at North Hayne Farm.