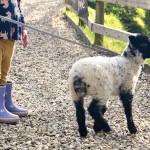 Our 2023 lambs on leads
Lambs on leads
This year we have two lambs for bottle feeding. Ruby and Saphire were names chosen to commemorate the coronation of Kind Charles the III.
Feeding our lambs 4 times a day soon sees them grow. Giving everyone the chance to feed them helps our lambs get used to the many new faces they see each week as well as helping us out! The last feed of the day is midnight, we don't get many helping at this session:-)
Once our lambs are old enough, they enjoy spring walks with our small guests who in turn learn how to be gentle, encouraging and patient with animals. It is always great to see the lambs skipping and hopping and the children laughing on these walks but also fun to see all the grown-ups waiting to have a go too...it's rarely just for the children!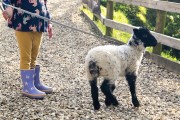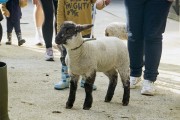 Posted on