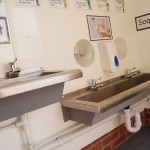 Coronavirus
Coronavirus (Covid-19)
As the UK continues to respond to the current Coronvirus (Covid-19) outbreak we like many other businesses are trying to minimise the impact this will have.
Please be assured we are taking this current situation very seriously and are working hard to reduce the possibility of anyone contracting the virus whilst with us should it ever enter our site.
Cottages are being cleaned with even more attention to touch points, fabric toys have been removed from all cottages, the games room and play barn have been cleared of all items that can not be easily cleaned. Alcohol hand sanitiser is provided within the games room and play barn as an additional measure.
Whilst the Government maintains the Delay Stage it means that people are free to travel and our business remains open, so our normal cancellation policy applies. We understand that neither our insurance nor possibly your travel insurance policy will assume liability if you do decide to cancel at this stage. Regardless of this we feel a tremendous responsibility and loyalty to our families that stay with us. We are already looking at ways to ensure financial losses to us all are minimised should the situation worsen.
North Devon is not a highly populated part of the county which has always been a good thing from a tourism point of view; it is even more helpful right now!! and our remote location is another positive attribute.
There are many lovely special places to enjoy in the fresh air that can allow you to holiday away from crowds (even as the season progresses) and still have masses of fun. We have put together a recommended open spaces day out guide consisting (so far) of 21 ideas which we will be sending out to our guests and providing in each cottage.
We are monitoring developments daily and for the sake of those with underlying health issues we must ask you please NOT TO TRAVEL if you feel unwell and have the Coronavirus symptoms https://www.nhs.uk/conditions/coronavirus-covid-19/
From all the team here at the farm.
Thank you for your continued support during the next couple of months
Posted on