2019/2020 South West Tourism Excellence Awards

2019/2020 South West Tourism Excellence Awards
Silver and Gold in the South West Tourism Excellence Awards
This years Awards event was held at the truly amazing Exeter Cathedral, providing a perfect backdrop to the dinner and awards evening.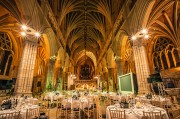 The evening was opened with a 'Haka' from the children of Ilsington CofE Primary School followed by the Very Reverend Jonathan Greener, Dean of Exeter.
Kai Horstmann and Greg Holmes, both of them Exeter Chiefs players and former internationals provided a short insight in to their Rugby careers and stories from the world of Rugby.
With the opening complete and dinner well underway, we settled back with anticipation as the awards began in earnest.
Our first category was the Accessible and Inclusive Awards where we had won Gold at Visit Devon. We were up against some terrific businesses within the South West so were unsure how we would compare, it wasn't long before we realised we were being awarded Silver, Amazing. The Roman Baths were awarded Gold and were well deserving as their site is truly focused on enabling as many people as possible to experience the history of the Baths... Well done.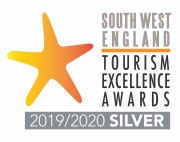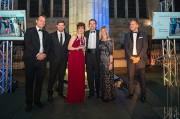 The final category of the evening was Self Catering and Accommodation. Again we approached the stage to wait for our name to be called out and were so pleased that we were awarded Gold.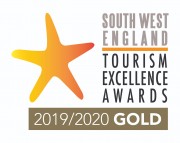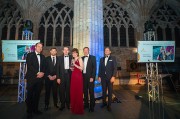 The awards represent the best of each category for the whole of the South West region (Wiltshire, Gloucestershire, Bath, Bristol, Somerset, Dorset, Devon, Cornwall and the Isles of Scilly), it encourages businesses to aim high and keep improving.
Our own story is now within it's 15th year and has been a journey of solid determination to create holidays for families that we can be proud of. Our commitment has always been to provide the best experience possible; to help families create great memories, create opportunities for children with all abilities to grow in confidence both socially as well as with the many animals we have here on the farm. We have implemented some important changes over the years, most notably gaining a much better understanding of the Autism Spectrum, armed with Cheryl's early years child care background we have created a wealth of supporting material and changes that help familes with a variety of needs. We are not finished improving, much more is yet to come!
We are so pleased to have moved to Devon back in 2004 and grateful to have met so many marvellous families many of whom have gone on to become friends.
We will never underestimate the value of your help, encouragement, laughter and thanks over these many years.
Cheryl & Roger, Harry & Emily
Jenny & Reg
And all the animals
Posted on