2019/2020 South West Tourism Excellence Awards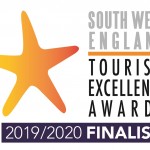 2019/2020 South West Tourism Excellence Awards
South West Tourism Awards Finalists
Having been blown away with our earlier success in the 2019 Visit Devon awards with Gold for both `Accessible and Inclusive Tourism` and `Self Catering Accommodation of the Year` as well as `Winner of Winners`, we now have another evening of excitement at the South West Tourism Awards which is being held tonight at the Exeter Catherdral.
Over 100 Tourism businesses from across the South West have been named amongst the Finalists of this year's Tourism Awards, which saw a record 773 entries from the region including Wiltshire, Gloucestershire, Bath, Bristol, Somerset, Dorset, Devon, Cornwall and the Isles of Scilly.
The Awards themselves won a national accolade earlier in 2019, achieving the Gold accolade in the Awards Trust Mark scheme for the quality and independence of judging. The awards also represent the South West 'heat' of the national awards, with many South West winners going on to be nominated to represent the region in the national VisitEngland Awards in June 2020.
Robin Barker, director of Services for Tourism Ltd, who manage the Awards, commented: "Our team members continue to be humbled by the excellence and ambition we see amongst our leading tourism businesses. They continue to invest, innovate and improve – and I offer them all our congratulations."
Fingers crossed but it should be a fabulous evening whatever happens.
What the Visit Devon judges said about us.
The awards are not just for their fantastic core business but also for the truly inspiring work they do to ensure their business is fully inclusive and entirely accessible for all, leading the way in this important area and setting a fantastic example to us all. That's why both of their awards this evening are Golds.
Coupled with all of this is their energy, passion and enthusiasm that just blew away two of our highly experienced judges when they visited.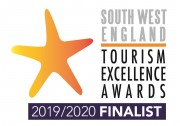 Posted on