2019 Devon Tourism Awards - Two Golds and Winner of Winners Award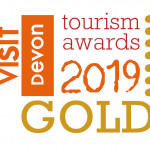 2019 Devon Tourism Awards - Two Golds and Winner of Winners Award
Gold for Accessible and Inclusive Tourism and Self Catering Accommodation of the Year and Winner of Winners
Without doubt the awards evening turned out to be completely overwhelming for Cheryl and myself. The 2019 awards saw a record of 240 entries across 27 different categories for Devon which was judged earlier this year. The awards were held on the 28th November at the Riviera International Conference Centre (RICC) in Torquay with entertainment and a wonderful meal. The judging panel had worked their way through the many entrants across the different categories and selected 89 finalists. At the start of the evening all finalists began to gather for pre-dinner drinks and a chance to meet other Devon businesses; at this point neither Cheryl or myself had any expectations of how the evening would turnout, we were just so proud to be finalists.
The first category for us was Accessible and Inclusive Tourism, an award that Cheryl is extremely enthusiastic about as she feels passionate about the effort we put in to making holidays just that little bit easier for families with children on the Autistic spectrum. Developing an understanding of how we can help make their holiday experience a positive one and providing a rich environment with opportunities that can help with the development of their child.
We listened to the announcement start for our category. The first announcement was for the Bronze award, then the Silver winners were announced leaving us at this point quite confused.... we hadn't been awarded either Bronze or Silver; then realisation hit, we had won Gold!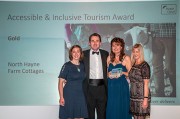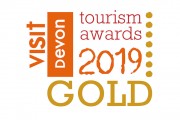 Very happy but a bit shaky we enjoyed the rest of the evening whilst waiting for our next category; Self Catering Accommodation of the Year.
As the awards were being given we waited by the side of the stage and were overwhelmed to learn we were Gold winners!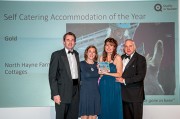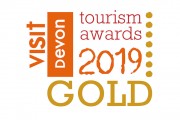 Finding our way back to our table wasn't easy, punch drunk with shock we sat down and looked at each other in disbelief, we couldn't have been any happier, it was amazing.
Enjoying the remains of the awards evening still looking and feeling a little dizzy we listened as the final award was announced. The Winner of Winners accolade is an award given after further deliberation by the panel of judges, to the business who demonstrated they went above and beyond expectations in so many ways. Both Cheryl and myself had agreed there were some fantastic businesses that would be contenders for the accolade but we never thought we would be part of it. As the announcement began the realisation again hit us that we had won. By this point breathing was optional!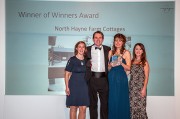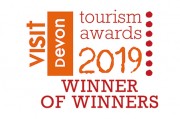 We congratulate all those businesses who put forward their entries. Entering an award like Visit Devon shows that you are proud of what you do and believe you are making a difference. We are proud to have moved to Devon 15 years ago and are lucky to have been able to run a tourism business where we have met some special families, made some good friends and have created amazing memories.
To everyone who knows us or who have supported us over the years we thank you from the bottom of our heart and promise to continue to do what we love and hopefully get the chance to see you again soon.
Wishing you all a very happy 2020.
Roger & Cheryl
Posted on