Witch Griselda visits the farm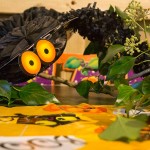 Witch Griselda visits the farm
"With a great cackling and rattling of the creaky old door, .....in bursts Griselda with more smoke than before.
Her broom stick at hand from a long evening flight, she looks around the room to hoots of delight.
With a crowd full of children it's so hard to choose, should she eat one... or eat them in two's?
She examines each pumpkin liking those just like her - with warts, turned up noses and even some fur.
Peter Rabbit does well, but Tom Kitten's the winner, then a swirl of her cloak and she's off to have dinner!! "
The winners with Witch Griselda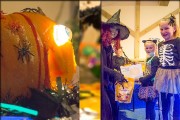 Well done to all pumpkin enteries, you were all fabulous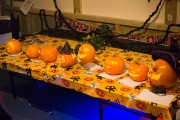 Posted on