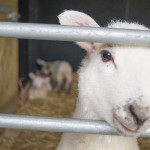 Wow! look at them now
The lovely weather, regular bottles of milk formula and plenty of racing around the fields has seen a big change already in our Spring lambs.
Monty (named after Montognolo cheese) is now almost 9 weeks old and most certainly the boss:) he is a real character who loves to race around the farm courtyard with anyone who is feeling fit. He still loves his cuddles from Emily in particular and is a big softie at heart.
Delice (Delice de Bourgogne cheese) and Brie joined him as playmates 2 weeks later and after a slow start on the bottle have settled in beautifully and adore Monty who they regard now as their big brother.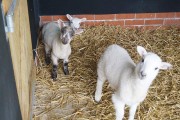 Our final new addition is Baby-bel, our little black ewe lamb who we will definately be keeping on the farm. She is just over 2 weeks old and despite a very difficult first 3 days being rejected by her mum has become a firm favourite with everyone (although a shared role with Monty we have to confess!) Baby-bel joined her new brother and sisters out on the field this week for the first time and is developing the art of lamb 'skips' and 'hops' at great speed very well now.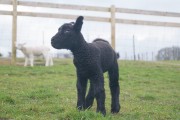 Huge thankyou's to all our enthuastic bottle feeders so far...we will continue to update our small farmers on their progress as they grow through the summer.
Posted on