Seasonal Celebrations at North Hayne Farm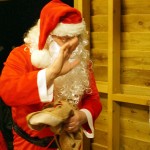 Seasonal Celebrations at North Hayne Farm
A Wonderful Festive End To Another Year
New Year Workshop and Family Fun
Just after the morning feeding session on New Years Eve, we ran the years last workshop.
At this time of year we like to help the local bird population by getting the children to make scrummy bird feeders. This year we made them out of Cheerio's threaded over pipe cleaners which was a great activity for all the age groups and was also very tasty.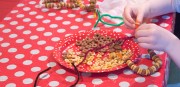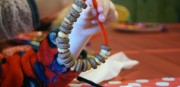 Later that day, just before everyone began to get ready for their own celebrations we had one final bit of fun in the form of our own "Welly Wanging" competition. Lined up in the courtyard our eager families prepared for some seriously competitive wanging.Well done everypne who took part.
Watch out!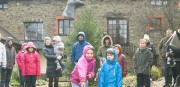 Finally, come midnight we all welcomed in the New Year with a very traditional New Year greeting and conga around the Christmas tree with those that had stayed up to see in the New Year. This year we were joined by 3 families, some of whom had just finished a wonderful New year dip in their hot tub so danced with us to dry off!
Happy 2016 from all at North Hayne Farm
---
Farmer Christmas Visits North Hayne Farm's 2015 Nativity
Christmas at the farm is a wonderful time of year and made just that bit more special with our very own Nativity which we have run each year since 2007.
Every year we make small improvements (some working better than others :-) but all made to ensure that the children all get to have a go (either speak or non speaking parts) with costumes that we provide.
In readiness for the special night we ran our popular Christmas workshop for the children making magic reindeer food that they sprinkle outside their cottage for Santa's visit as well as decorating some cookies for Santa to enjoy when he drops off their presents.
Finally not wanting to forget our animals we hung their stockings out (with the children's help) on Christmas Eve, (this was a much loved activity!!) and which were excitedly inspected on Christmas morning by both the children and the animals!!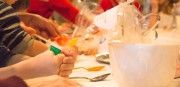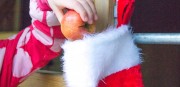 Our Nativity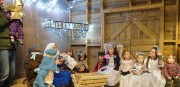 Our annual Nativity at Bethlehayne was once again fabulous. Huge thanks to the team for working so hard to make this great event happen each year.
So that the evening isn't too demanding on the actors we narrate the bulk of the nativity but are happy to give lines to those children who would like to have a go. We did have an amazing cast for 2015! many of whom wanted to use the microphones, in particular well done to our Inn Keeper Eliza and our Angel Gabriel Megan who were both brilliant!
Farmer Christmas Arrives
With the Nativity complete , the mulled wine drunk and carols sung, we asked all of the children to sing jingle bells as loudly as they could so that a special visitor might come. After the third rendition, the faint sound of a quad bike was heard as Farmer Christmas came down the drive and made a very special appearance; showing off his new santa suit (very fine indeed) , handing out presents to all the children and wishing them a very happy Christmas he then disappeared off in to the Christmas Eve night.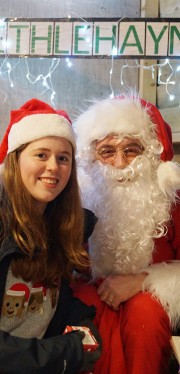 Posted on