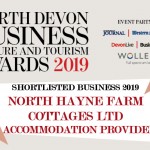 Finalists in the North Devon Business Awards!
Posted on Aug 19, 2019
We are thrilled to have been shortlisted as a finalist in the Best Accomodation Provider catergory this year!
The competition, organised by the North Devon Journal Business, Leisure and Tourism awards recognises the best of North Devon businesses and is a fabulous opportuntity for us to learn more about other great businesses in the area.
The awards night takes place on the 26th September 2019 at the High Bullen Hotel so a bit of a chance to get out of the farm clothes for an evening!
We wish all the finalists lots of luck and will be crossing our fingers and toes!